Shaklee's Join Free Offer
Join Free with Any Order was such an outstanding success in April that we thought it deserved a little more time in the sun.  So for another month, between now and May 31, sponsor new people with the purchase of any Shaklee product or products*, and we'll waive the $19.95 membership fee!
So, not only will this offer be available for Roger's tour dates in May, it's also terrific in combination with the Cinch Transformation Pack offer, which will be available through July 31st!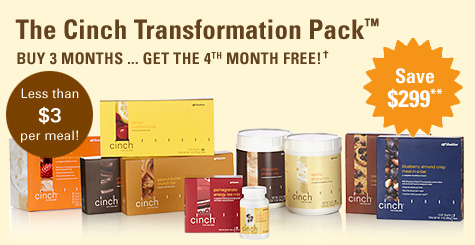 * New Members can join Shaklee with any product order and an application, and Shaklee will waive their $19.95 membership fee. An order must be placed at the time of sponsoring. Sponsorship points will only be awarded with a 50PV order for new Members. Offer valid through May 31, 2012. Offer subject to change without notice.
†The Cinch® Transformation Pack offer gives you a complete 4-week supply of Cinch products for $299.95 MP, delivered monthly for three months. After the third month of receiving the pack, a free 4-week supply will be shipped for the fourth month. The same method of payment that was used to enroll in the offer will be billed monthly. Cancellation of any of the three months will disqualify you from receiving the free shipment. There is no PV on any of the free product shipped, and by purchasing this offer you agree to pay shipping & handling charges and all applicable taxes for all shipments. Limit two per Shaklee ID number. This offer is valid from December 29, 2011 to July 31, 2012, or while supplies last. The free, fourth shipment must be completed by October 31, 2012.
For More Information Click These Links
fritzcan69
Tagged with: join free special offer • Join Free with Any Product Order Extended thru May 31st! • shaklee free offer • special offers
Filed under: Shaklee Products Health
Like this post? Subscribe to my RSS feed and get loads more!