How We Age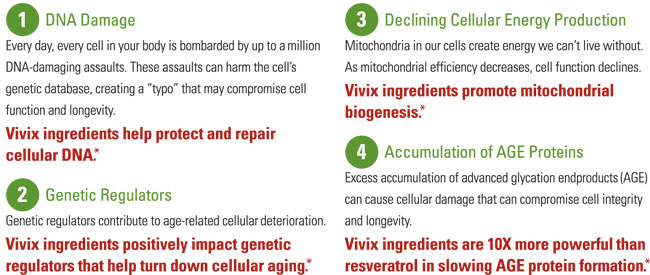 The Four Key Mechanisms of Aging
| | |
| --- | --- |
| | It's a fact of life. Aging begins long before we can see or feel any changes – at the cellular level. Is cellular aging inevitable? Well, we can't stop time, but emerging research reveals we may be able to influence these biological aging processes in positive ways. This has to do with how efficiently cells repair and replicate themselves, which affects your health, well-being and the aging process in various ways. |
Our bodies face these four key mechanisms of cellular aging:
Read Our Article On Anti-Aging Supplement with Antioxidant Nutrition – Is There A Fountain Of Youth?
Also: Vivix Research Study Shows How It Activates Nrf2 Anti-Aging Gene
DNA Damage
Every day, every cell in your body is bombarded by up to a million DNA-damaging assaults. These assaults can damage the cell's genetic database, creating a "typo" that may compromise cell function and longevity.
Genetic Regulators
Genetic regulators contribute to age-related cellular deterioration by controlling the dynamic balance between damage and repair, including whether a cell will live or not.
Declining Cellular Energy Production
Mitochondria in our cells create energy we can't live without. As mitochondrial efficiency decreases, cell function declines.
Accumulation of AGE Proteins
Excess accumulation of Advanced Glycation Endproducts (AGE) can cause cellular damage that can compromise cell integrity and longevity.
*These statements have not been evaluated by the Food and Drug Administration. These products are not intended to diagnose, cure, or prevent any disease.
To Learn More Click on These Links:
Tagged with: anti aging supplement • Anti-Aging • antioxidant nutrition • how we age • vivix
Filed under: Anti-Aging
Like this post? Subscribe to my RSS feed and get loads more!